Remarkable Wedding Memories with the Best Wedding Planning Company in Delhi NCR
The wedding ceremony is the most awaited day in everyone's life. It is a ritual in which two love one's pledge to spend their lives together. The purpose of a wedding is to celebrate the occasion of love and togetherness with friends and relatives. Marriage is considered a faithful union and equal partnership between a man and a woman. As one of the best wedding planning company in Delhi NCR, the function empire helps in making your dream event to a reality. Our team can plan your wedding in an innovative way to have sweet memories of this special day.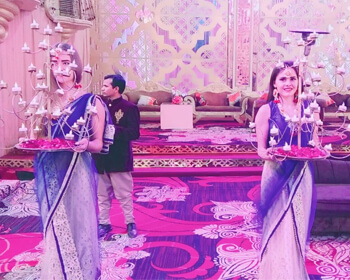 Every wedding is unique, hire a wedding planner to make it more special
We understand planning a wedding function is a challenging task. It can't be handled by a single-handed person. Being a top-notch event planner in Delhi, we take the responsibility to manage the function in a prominent way. With so many different details to pay attention while hosting any party, our team of professionals helps you in capturing the quality memories of your big day.
Indian Wedding Wedding Ceremony Rituals and Traditions
Engagement Party: The pre-wedding events always start off with the engagement party. The party is hosted by the couple when they finally commit to spent their entire life with each other. Our team will help you in delivering a graceful celebration.
Bachelor's Party: This is a time where the bride's and groom throw a bash to their friends. If you're wondering where to begin, then we are the best option for you. We give you a perfect idea to host a bachelor party that includes gentlemen's clubs, dinners, limousine service, and more.
Haldi Function: Haldi Function is one of the rituals which holds the most important place in Indian traditions. We take a look at this wedding ritual and its significance to manage all activities smoothly.
Mehendi Ceremony: As per the Traditional Indian customs, Mehendi is put in the hands and feet of the bride as a sign of love. We have a team of Mehendi artists who can design a unique for you.
Sangeet Ceremony: The Sangeet function carries lots of fun, adventure in an Indian wedding. The function all about dancing and singing. To make this moment more exciting our professional team choreographer will teach you the different dance forms like Bollywood Bhangra, Couple dance or any other.
Wedding Phere: Wedding ceremony in which all vibrant traditions come to the forefront with a fun and festive vibe. Saat Vachan or Phere are important elements of any Indian Hindu Wedding.
Reception: The reception ceremony is celebrated just after the main wedding day. If you want unforgettable memories of the reception ceremony then the best wedding planner in India.
Being the Best Wedding Planners in Delhi, we believe in delivering our clients with the latest trends in the wedding. We organize and arrange a memorable wedding that will be remembered by all the guests. Right from designing stylish & classic Invitation card to organize a cherishing theme-based wedding party; Function Empire offers every type of service that fulfills all of your requirements. From caterings to proper lighting and DJ service, we provide you with all. You don't have to look for different vendors for different requirements and, therefore, make your wedding a memorable day with us.